Wellington Place
These are good years for you... perhaps the best years of your life.
Come enjoy them in a world of comfort and ease at Wellington Place of Rolla.
At Wellington Place you'll enjoy the conveniences of a comfortable, resort lifestyle without spending a fortune and without sacrificing the feeling of home. Wellington Place was specifically created for energetic individuals who will find pleasure in the variety of activities offered. We're happy to take care of burdensome day-to-day maintenance and security responsibilities so you can have the freedom to discover --or rediscover-- the things you enjoy most in life! Wellington Place is built upon the idea that being at home means feeling truly comfortable and secure. We keep that in mind when we design and build each single level two or three bedroom home.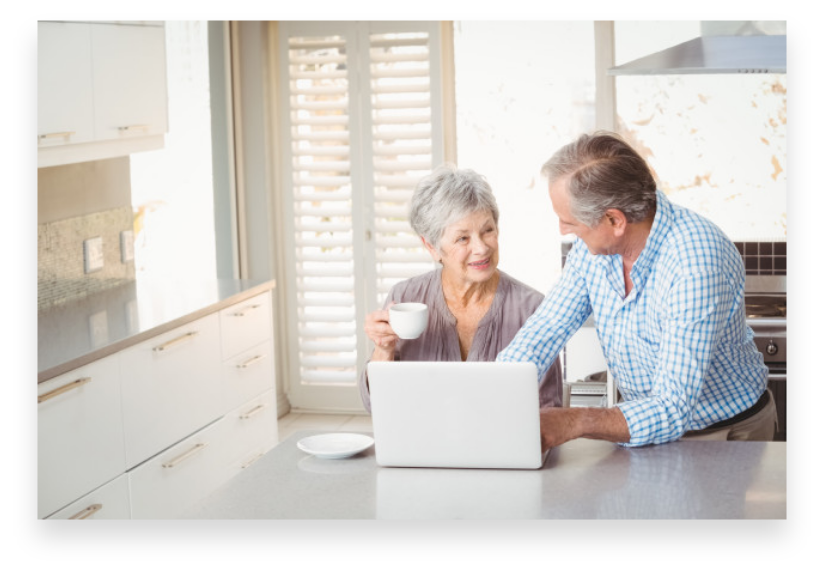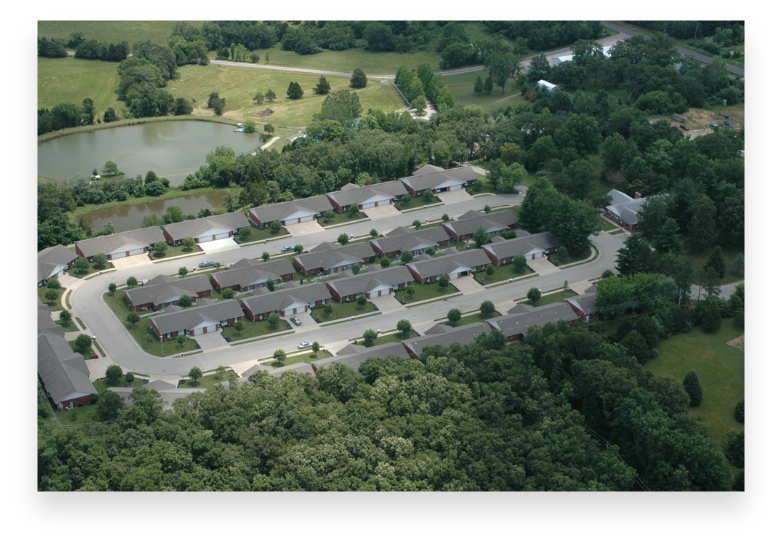 You can choose the one which suits your taste and budget. Awaiting your personal touch, each all brick home is complete with fully equipped kitchen complemented by oak cabinetry, utility area with washer and dryer, private yards, attached garage with storage and automatic door openers, and walk-in closets.
Each unit is also built to be sound and fire resistant. And for added safety, the large airy bathrooms
and bedrooms have wide doors with lever handles, grab bars and emergency call buttons.
Kensington Park
Kensington Park offers luxurious amenities and
a variety of options to prospective residents.
With beautiful landscaping, spacious living quarters, lots of options, and a wonderful clubhouse, it's a perfect place to call home. Please scroll down to see all of the many amenities this gorgeous active adult community offers!
Units
Interior Amenities
Wall-to-wall carpeting
Thermo pane windows
Therma-Tru entry doors
Mini-blinds
Ceramic tile / solid hardwood
Smoke alarms & CO detectors
Built in ironing board (Windemere Units Only)
Integrated Wiring throughout
Emergency call system
Cable TV / Internet
Phone
Full kitchen
Refrigerator, stove, dishwasher, disposal, microwave
Universal Design for optimum comfort
Special feature fixtures available for Bathroom
Wide doors with lever handles
Raised dishwasher
Our
Agents
To be the best real estate source for our customers, providing an environment where employees achieve their professional best, and continually pursuing opportunities to better our community.
So glad this is home!
Carline Aswegan
24 april, 2018
Moving to Wellington Place was the best decision I could have made! I love the feel of a small neighborhood & after being shown a unit available, I knew this was it! The property is kept in tip top shape and the maintenance men are there for you 27/7, so willing to help & with a smile. There are monthly potlucks at the clubhouse, a wonderful way to visit your neighbors and a weekly exercise class, also at the clubhouse. Its so close to town & very convenient.

Again, so glad this is home!
I fell like we are all one big family.
Bonnie Reed
24 april, 2018
Don and I have lived at Wellington Place almost 21 years and love it. Joe and Rick take very good care of our community. All it takes is a phone call when we need them. We have a potluck once a month with Mike and Linda suppling the main dish and the residents bringing the side dishes and we have lots of good cooks. We always play Bingo after the meal! We have lots of good times at the clubhouse. Canasta, Rummikub, Dominoes, and Cribbage are just a few of the fun things we do. We don't have to mow or water grass or shovel snow. We all pay attention to our neighbors to make sure they are okay.

I fell like we are all one big family.
Thanks for your foresight when you got the idea to develop Wellington
Ana Darcy
20 February, 2020
After having lived at the Wellington address for a few years, I have been able to experience the quality of life the amenities afforded a resident in the development. We use the clubhouse facility for large family gatherings, and appreciate the availability of refrigerators, dish washers, and enough serving sets to supply our needs. We are able to allow our grandchildren to visit and enjoy the space, the exercise room, and game tables.
All of our neighbors are of our age group with similar likes and sensitivities, and very welcoming to new neighbors, and anxious for everyone to show appreciation to and for our maintenance staff, that are very attentive to our needs, requests for service and are prompt in answering our calls. Routine maintenance seems at times to predict when a need will occur.

Any time in the future, we would be pleased to recommend the living plan arrangement, as we have in fact, done in the past. A note of thanks also, to you and Linda for the personal caring you show on our monthly Tuesday potluck dinners where we all get together. I'm not a BINGO player, but it's good to see those that are, look forward to playing.
Wellington has so much to offer and is the perfect fit for me.
Carolyn Cruse
17 February, 2020
I moved into the Wellington retirement, what I like to call "neighborhood" shortly after my husband's death over 6 years ago. My first week we had snow and some ice and my walk and driveway were clean before 9:15 am. Great start to knowing you could count on the "guys" to be there when you needed them. The monthly Carry-in dinners at our Clubhouse where owners Mike And Linda Woessner provide the main course and the side dishes are provided by the residents, is always a great time.

Wellington has so much to offer and is the perfect fit for me.
So glad this is home!
Carol Southern
19 February, 2020
If you are looking for a new home that will fulfill all your adult needs, you have found it. Wellington Place is a beautiful, well maintained facility designed with older adults in mind. As newcomers to Wellington we found the place we were looking for. Beautiful, well maintained duplexes in a lovely setting with little to no maintenance and the friendliest neighbors you could ask for. Lovely clubhouse with all kinds of activities. Friends and family are always welcome to come and visit and attend all the activities there.
Everyone is very helpful
Dottye Wolf, Resident since 2003
12 June, 2020
My favorite happy thing about living in Kensington Park is that everyone is very helpful. I have always felt that, if I needed help day or night, there is not a single resident that I would not feel free to call. We are a happy "family'
Employees and residents care about one another
The Looks
12 June, 2020
We feel this is carefree living in a community where owners, employees and residents care about one another. It is one of the unique , premier communities in central Missouri.
My neighbors are friendly.
John Schmitt
12 June, 2020
The house is comfortable and well-constructed. The facility is located convenient to services and shopping. I can go out of town anytime, knowing that the house is secured.
The housing structures are awesome
Pat & Don Oster
12 June, 2020
The housing structures are so substantial that noises from the outside are minor, and the heating/cooling utility bills are modest. The ownership mows the grass and removes the snow. The residents like each other.
Friendship
Suzy Lewis
12 June, 2020
The first thought that popped into my mind is "friendship" we are a very close knit community. It means a lot that we have a lot of prayer warriors.
There is always someone there to help
Cynthia
12 June, 2020
1. The community is more of a family. The activities - exercise class, monthly luncheon and dinner makes for a warm and inviting atmosphere. 2. The maintenance makes my life worry free. To include Yard work and snow removal - love it. 3. Neighbors helping neighbors - I feel like I live in Mayberry RSD. There is always someone there to help if I need it.
CONTENTMENT!
Rosie Dahlberg
12 June, 2020
After living in Kensington Park for 14 years, one word sums it up: CONTENTMENT! It's a safe, beautiful, well-managed, and loving community.
We enjoy living in Kensington Park
Susan & Bill Bates
12 June, 2020
My husband and I have enjoyed living in Kensington Park for over a year now. We enjoy the fellowship of our friendly neighbors, the many activities in the fully-equipped clubhouse, the worry free maintenance provided, and the well-designed and well-built home.
LOVE IT!
Jean Koen
12 June, 2020
Love the community of Great Friends, a Christian Community. Upkeep of grounds and home never have to wait long for needed help. Never felt like a stranger. Everyone ready to "help-out" when needed. LOVE IT!